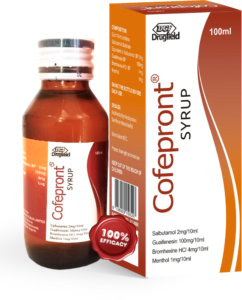 (Salbutamol 2mg + Guaifenesin 100mg +
Bromhexine Hydrochloride 4mg + Menthol 1mg)/10ml
COMPOSITION
Each 10ml contains:
Salbutamol Sulphate equivalent to Salbutamol BP  2mg
Guaifenesin BP   100mg
Bromhexine Hydrochloride  BP  4mg
Menthol   1mg
CLINICAL PHARMACOLOGY
PHARMACODYNAMIC
SALBUTAMOL
Salbutamol is a direct acting sympathomimatic with predominantly beta – adrenergic activity and selective action on beta receptors. This result in its bronchodilating action being more prominent than its effect on the heart.
BROMHEXINE HYDROCHLORIDE
Bromhexine is a mucolytic used in the treatment of respiratory disorder associated with productive cough. Bromhexineis a synthetic derivative of the herbal active ingredient vasicine. Preclinically it has been shown to increase the proportion of serious bronchial secretion.
MENTHOL
Menthol has mild local anaesthetic and decongestant properties. it exerts soothing and counter irritation or upper respiratory mucosa. It has been suggested that the apparent benefits of menthol in nasal congestion may be due to an effect on calcium channels of sensory nerves.
PHARMACOKINETICS
SALBUTAMOL
Salbutamol is readily absorbed from the gastro intestinal tract. It is subject to first- pass metabolism in the liver and possibly in the gut wall, the main metabolism is an inactive sulfate conjugate. Salbutamol is rapidly excreted in the urine as metabolite and unchanged drug; there is some excretion in the faeces.
The plasma half-life of salbutamol has been estimated to range from 4 to 6 hours.
GUAIFENESIN
Guaifenesin is well absorbed from the gastro intestinal tract following oral administration. 60% of guaifenesin is hydrolysed in blood within 7 hours with the formation of beta-2-methoxyphenoxy-lactic acid.
Excessive Use of Guaifenesin
Guaifenesin is excreted in the urine in the urine in the form of metabolites. The plasma half-life of guaifenesin is 1hour.
BROMHEXINE HYDROCHLORIDE
Bromhexine Hydrochloride is rapidly absorbed from the gastro intestinal tract and undergo extensive first pass metabolism in the liver. Its oral bioavailability is stated to be only about 20%. It is widely distributed to body tissues.
About 85 to 90% of a dose is excreted in the urine mainly as metabolites. Bromhexine is highly bound to plasma protein; it has a terminal elimination half life of up to about 12hours. Bromhexine crosses the blood brain barrier and small amount cross placenta. Only small amount were excreted unchanged in the urine with a half life of about 6.5hours.
MENTHOL
Menthol is hydrolysed in the liver by microsomal enzyme to methane – 3,8 diol. This is then conjugated with glucuronide and excreted both in urine and bile as the glucuronide.
INDICATIONS
Cofepront® syrup is indicated for the symptomatic relief in the treatment of productive cough associated with bronchospasm in various  respiratory disorders like pneumonia,  Chronic Obstructive Pulmonary Disease(COPD), Brochial asthma, Emphysema, Acute and chronic bronchitis etc.
CONTRAINDICATIONS
Cofepront® syrup is contraindicated in individuals with known hypersensitivity to the product or any of its components.
INTERATIONS WITH OTHER MEDICINAL PRODUCTS AND OTHER FORMS OF INTERATIONS
If urine is collected within 24hours of a dose of Cofepront® syrup, a metabolite of Guaifenesin may cause a colour interference with laboratory determinations of urinary 5- hydrroxyindoleacetic acid (5 – HIAA) and Vanillymandelic acid (VMA).
Use of salbutamol and other β2 agonists with corticosteroids, diuretics,orxanthenes increases the risk of hypokalemia and monitoring of potassium concentrations is recommended in severe asthma, where such combination therapy is the rule.
Salbutamol and non – selective beta – blocking drugs such as propranolol should not usually be prescribed together.
WARNINGS/PRECAUTIONS
Cautions should be exercised when using the product in the presence of severe renal or hepatic impairment.
Potentially serious hypocalcaemia has resulted from systemic β2 agonists therapy. Particular caution is advised in acute severe asthma as the effect may be potentiated by concomitant treatment with xanthine derivatives steroids, diuretics and by hypoxia. It is recommended that serum potassium levels are monitored in such situations.
Since mucolytic may disrupt the gastric mucosal barrier bromhexine should be used with care in patients with a history of peptic ulcer disease.
KEEP OUT OF THE REACH OF CHILDREN!
SALBUTAMOL
Salbutamol is used as bronchodilator in the management of reversible airways obstruction as in asthma and in some patients with chronic obstructive pulmonary disease.
GUAIFENESIN
Guaifenesin is reported to increase the volume and reduce the viscosity of tenacious sputum and is used as an expectorant for productive cough.
BROMHEXINE
Bromhexine is a mucolytic used in the treatment of respiratory disorder associated with productive cough.
MENTHOL
Menthol is chiefly used to relieve symptoms of bronchitis, sinusitis and similar conditions.
PREGNANCY AND LACTATION
PREGNANCY
Cofepront syrup should not be used during pregnancy unless the potential benefit of treatment to the mother outweighs the possible risks to the developing foetus.
LACTATION
Guaifenesin is excreted in breast milk in small amount with no effect expected on the infant.
Salbutamol may be secreted in breast milk. It is not known whether salbutamol has a harmful effect on the neonate and so its use should be restricted to situations where it is felt that the expected benefit to the mother is likely to outweigh any potential risk to the neonate.
ADVERSE REACTIONS/ SIDE EFFECTS
Gastro intestinal discomfort has occasionally been recorded with Guaifenesin. Adverse reactions to menthol at the low concentration present in cofepront® cough syrup are not anticipated.
Salbutamol and other beta agonists may cause fine tremor of skeletal muscle (particularly the hands), palpitations,trachycardia,nervous tension, headaches, peripheral vasodilation and rarely muscle cramps.
Gastro intestinal side effects may occur occasionally with Bromhexine and a transient rise in serum amino transferase values has been reported.
SYMPTOMS OF OVERDOSE AND ANTIDOTE
The symptoms and signs of overdose of Guaifenesin and Menthol may include gastro intestinal discomfort, nausea and drowsiness.
The treatment should be symptomatic and supportive.
The symptoms of overdose of salbutamol include Tachycardia, CNS stimulation, Tremor, Hypokalaemia and Hyperglycaemia. Symptomatic treatment of the adverse effects has proved successful. The plasma- potassium concentration and pulse rate have been found to correlate with the plasma concentration of salbutamol.
DOSAGE AND ADMINISTRATION
–              Adults and Children above 12 years:
10ml to be taken three times daily
–              Children from 6 to 12 years:
5ml to be taken three times daily
–              Children from 2 to 5 years:
2.5ml to be taken three times daily
–    Not recommended in children below 2 years.
PRESENTATION
Cofepront® cough syrup is presented in 100ml amber bottle.
STORAGE CONDITIONS
Store below 300C. protect from light and moisture.