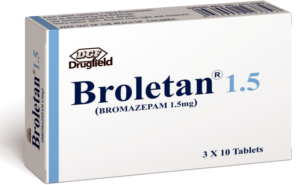 (BROMAZEPAM 1.5mg/Tablet, BROMAZEPAM 3mg/Tablet)
COMPOSITION
Each Broletan®3 tablet contains 3mg of Bromazepam (7-bromo-1, 3-dihydro-5-2-(pyridyl)-2H-1, 4-benzodiazepine-2-one (bromazepam)
Each Broletan®1.5mg tablets contains 1.5mg Bromazepam (7-bromo-1, 3-dihydro-5-2-(pyridyl)-2H-1, 4-benzodiazepine-2-one (Bromazepam)
CLINICAL PHARMACOLOGY
Pharmacodynamic Properties
BROMAZEPAM
Bromazepam is a lipophilic, long-acting benzodiazepine and with sedative, hypnotic, anxiolytic and skeletal muscle relaxant properties. It does not possess any antidepressant qualities. Bromazepam shares with other benzodiazepines the risk of abuse, misuse, psychological and or physical dependence. According to many psychiatric experts,Bromazepam has a greater abuse potential than other benzodiazepines because of fast resorption and rapid onset of action.
Pharmacokinetic Properties
BROMAZEPAM
Bromazepam is generally well absorbed after oral administration. Bioavailability is 84% following oral administration. The time to peak plasma level is 1 – 4 hours. Bromazepam is metabolized in hepatocytes, via oxidative pathways. One of the main metabolites is 3-hydroxybromazepam. It is pharmacologically active and the half life is similar to that of the parent compound.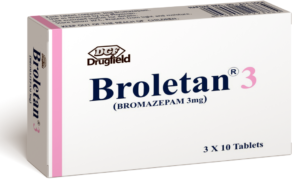 INDICATIONS
For the short-term treatment of insomnia, behaviour changes (e.g., aggressiveness, agitation, unusual excitement, nervousness, or irritability), short-term treatment of anxiety or panic attacks.
CONTRAINDICATIONS
Hypersensitive or allergic to bromazepam or any ingredients of the        medication.
Allergic to any other benzodiazepines
Have narrow angle glaucoma
Have severe breathing difficulties
Have severe liver disease
Have sleep apnea
Myasthenia gravis
INTERACTIONS
The serum concentration of Bromazepam can be increased when it is combined with Abiraterone.
The risk or severity of adverse effects can be increased when Bromazepam is combined with Acepromazine.
The risk or severity of adverse effects can be increased when Alfentanil is combined with Bromazepam.
Bromazepam's effect may increase the effect of alcohol and vice versa. Do not consume alcohol while taking this medication as side effects may                be drastically pronounced.
WARNINGS/PRECAUTION
Caution should be taken while using this medication with known hypersensitivity to benzodiazepines, acute closed-angle glaucoma, myasthenia gravis, liver or kidney disease, history of alcohol or substance abuse, chronic lung disease, epilepsy, mental illness or depression, sleep apnoea. Potential risk to the foetus has been reported. Consult your doctor before use, or if you are planning to fall pregnant.
KEEP OUT OF THE REACH OF CHILDREN !
PREGNANCY AND LACTATION
This medication should not be used during pregnancy unless the benefits outweigh the risks. If you take Bromazepam and suspect you are pregnant or plan to become pregnant, consult your doctor before stopping Bromazepam suddenly.
This medication may pass into breast milk. If you are a breast-feeding mother and are taking Bromazepam, it may affect your baby. Talk to your doctor about whether you should continue breast-feeding.
ADVERSE REACTIONS/SIDE EFFECTS
Drowsiness, dizziness, headache, ataxia, decreased alertness, seizures, tremor, incontinence, anterograde amnesia, confusional state, emotional disturbances, libido disorders, muscle weakness and spasm, depression; behavioural, speech and sleep disorders, restlessness, agitation, delusion, irritability, aggressiveness, nightmares, anger, psychoses, hallucinations, diplopia, pruritus and rash, fatigue, cardiac failure, resp depression, anorexia, GI disturbances (e.g. nausea, vomiting).
SYMPTOMS OF OVERDOSE AND ANTIDOTE
Symptoms: Drowsiness, mental confusion, lethargy, areflexia, apnoea, ataxia, hypotonia, hypotension, cardio-resp depression and coma. Management: Symptomatic and supportive treatment. Admin activated charcoal if taken w/in 1-2 hr. May admin flumazenil cautiously for severe CNS depression.
DOSAGE AND ADMINISTRATION
Dosage: 1.5-3mg three times daily. Severe cases, especially in hospital: 6-12 mg two or three times daily. These amounts are average recommendations, and dosage should be individually determined. Treatment of outpatients in general begins with the lowest dose, gradually increasing if necessary to the optimum level.
After about 3 to 6 weeks, according to progress in therapy, dosage can usually be gradually reduced and then stopped.
PRESENTATION:
Broletan® 1.5 and 3mg is presented in a blister pack of 3× 10's
STORAGE CONDITIONS
Store below 30oC. Protect from light and moisture.